---

---
Seamlessly translates between J1939-250K and J1939-500K
The TMT3939 TranslatorTB is ideal for applications which combine engines, cabs, diagnostic tools, instruments, etc. with different versions of J1939.

Need Help? CAI Provides No-cost Technical Support for the Lifetime of the Product.
Features:
Translates J1939-250K ⬄ J1939-500K
Supports all J1939 parameters, including trouble codes and proprietary PGNs
Ready to use, pre-configured for plug and play convenience
Built durable for the rigors of Marine, Automotive, Truck, Off-Road and transportation industries
Polycarbonate enclosures for long lasting durability
Competitively priced with unparalleled customer service
New installer features—Aid Installation. Minimize Downtime.
Scan the databus for a complete list of available devices and parameters
Diagnose communication problems
Browse historical log information including databus errors, trouble codes, and more
Upgrade the TranslatorTB in the field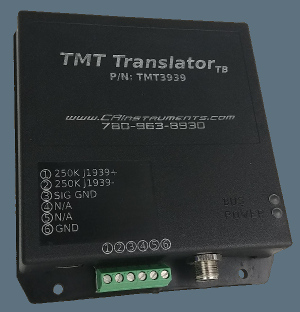 With one TMT3939 translator, you can seamlessly connect a J1939-250K data bus and a J1939-500K data bus together, and your devices won't know the difference.

There's a New J1939 in Town...
The J1939 protocol has been universally adopted in the heavy diesel industry for over a decade, but has recently started being phased out by components which support only the newer and faster J1939 500K protocol, showing up in vehicles and equipment as early as 2016.

The new protocol's increased speed and capacity come at the cost of being incompatible with the older and more prevalent J1939 250K protocol. This makes combining components such as ECUs, ABS modules, instrument clusters, etc. impossible unless they a) all use the same protocol, or b) are connected together using a TMT3939 translator.

Custom programming is available, please Contact Us for more information