---

---
Translates J1587/J1708 to J1939
The TMT7839 Translator
TB
is ideal for applications which combine J1587/J1708 engines with newer J1939 installations.
Features:
Translates J1587/J1708 -> J1939
Large number of standard parameters supported out of the box
Ready to use, pre-configured for plug and play convenience
Built durable for the rigors of Marine, Automotive, Truck, Off-Road and transportation industries
Polycarbonate enclosures for long lasting durability
Competitively priced with unparalleled customer service
New installer features—Aid Installation. Minimize Downtime.
Scan the databus for a complete list of available devices and parameters Example Scan
Diagnose communication problems
Browse historical log information including databus errors, trouble codes, and more
Upgrade the TranslatorTB in the field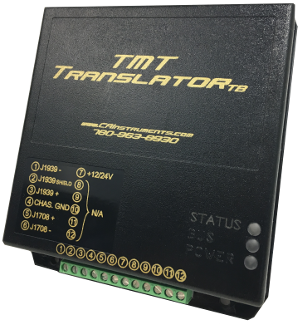 "...the install was a success. Needless to say "I'm thrilled" with the translators! Your product solved the problem."
-Kevin King
Custom programming is available, please Contact Us for more information