---

---
Diagnostic Tool for Heavy-duty Diesel Engines
The XL1000 ULTRA-LINK Diagnostic Tool is a universal tool designed to work on ALL diesel engines, transmissions and ABS brake systems utilizing J1587/1708 and J1939 protocols broadcast in a non-proprietary format.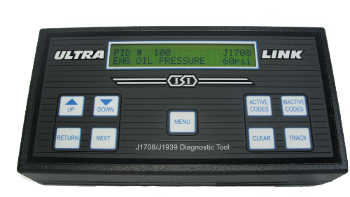 Now Supports 500k J1939
For vehicles with the new green 9-pin Deutsch diagnostic plug.
UPGRADE AVAILABLE for existing tools.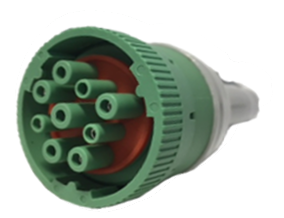 Simply plugs into the diagnostic outlet.
Reads the digital data stream from the ECM and displays various functions and error codes.
Playback feature. Allows you to look up any record, view parameters and trouble codes without connecting your PC.
MENU
Change protocols or functions quickly and easily.
STORE RECORDS
Stores up to 36 records in the Ultra-Link XL 1000 before requiring to download.
PLAYBACK FEATURE
Playback a previously stored record. Look at any record stored as though you were still hooked up to the truck. View all parameters and trouble codes without having to be connected to the PC.
DELETE RECORDS

Delete stored records from the Ultra-Link Tool or from the PC.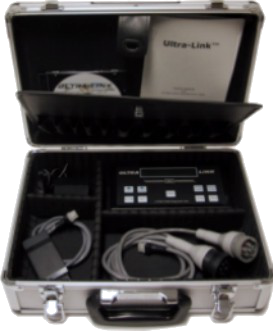 DISPLAYS MANUFACTURES' CODES

AFFORDABLE

COMES READY TO USE
No software upgrades required.
Available for 12 or 24 volt systems.
USER FRIENDLY

Easy to read LCD display.
Lightweight for ease of handling.
FULLY OPERATIONAL WITHOUT THE USE OF A COMPUTER

REDUCES TROUBLE SHOOTING TIME

Quickly pinpoints areas of concern and possibly eliminates other more time consuming methods.
CLEARS INACTIVE TROUBLE CODES

GREAT FOR TEST DRIVES**

Track mode allows selection of up to 4 parameters to be displayed on the same screen for comparison.
COMES COMPLETE WITH:
The ULTRA-LINK Diagnostic Tool, Instruction  manual, 2 harnesses (6 & 9 pin Deutsch),USB Transfer Cable and a rugged carrying case.
(Additional Harnesses Available: Click HERE)  

NOW comes with Auto detect 250 kbps or 500 kbps baud speed! (needs green plug)

(Available for devices V5.9XL and up. Updates available for devices V5.8XL and below)
DURABLE & LONG LASTING

Strong polycarbonate case utilizing rugged long use tactile keys.
METRIC OR US

Easily switches to display US or Metric values.
** For safety reasons, it is not recommended for one person to operate the ULTRA-LINK XL Diagnostic Tool and drive the vehicle, at the same time. When test driving, use a designated driver.